Presented by 811 Outdoors, Partners with Mossy Oak and MOOSE Media 
The Direction – an adventure-travel fishing television series in its 4th season, has formed a partnership with Mossy Oak, one of America's premier outdoor brands, announced host and producer, Mark Stowe.
"Protecting the environment – and the folks who live and work outdoors – is at the top of everything for Mossy Oak, which makes this an ultimate partnership filled with new opportunity," exclaimed Stowe.
"The alliance uses all of the media assets Mossy Oak wields, including the 4.5 million social followers of Mossy Oak, the company's programmatic acumen, and the powerhouse media portfolio that serves the member base of The Gamekeepers of Mossy Oak," said Greg Sugg of MOOSE Media. "Everything is in play: on-air branding for the Mossy Oak Elements' fishing collection, as well as promotional executions for Stowe's television series on our Mossy Oak GO digital entertainment network."
Distribution for The Direction presented by 811 Outdoors now includes Mossy Oak GO, Discovery Channel, Pursuit Channel, PursuitUP, Wave 3 (NBC), MOTV, Pride Outdoor Network, Hunt Channel, and Outdoor Action TV. 811 Outdoors, the production/marketing company owned by Stowe, served more than 3,900 811-related commercial spots in 2020, delivering the Call 811 safe-digging message to more than 140 million television viewers across these networks.
Stowe's career as a successful landscape contractor provides professional insight for the organic 811 safe- digging discussions he hosts with engaging personalities from the deck of his customized 811 Bass boat. He has been an ambassador for the Call 811 safe-digging message for more than 17 years.
"The vast majority of the people who need to know about Call 811– the DIY folks, the homeowners, the farmers, the tradesmen and women identify strongly with the outdoors, and particularly fishing," said Stowe. "Enjoying the outdoors is why they work – and that goes double for me, too. For stakeholders in OHIO811, this new reach and distribution creates 'value' for all who have an interest in keeping underground facilities safe through awareness, education, and trying to influence behaviors. We keep branding and sharing the 811 message to broader and more diverse audiences."
"The Mossy Oak partnership is a milestone achievement for America's safe-digging stakeholders," Stowe concluded. "The increase in assets and audience, the opportunities to drive awareness and educate the outdoor public to Call 811, has taken a tremendous step forward. "We are looking forward to this new partnership and distribution opportunity for our safe digging stakeholders, and to seeing where and who else we can reach and influence. Alongside an exciting 2021, looking back on 2020 brought some great achievements. 2021 is going to be a great success." Stowe says.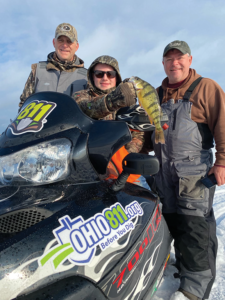 On a personal level, perhaps the most exciting thing we were able to do in 2020 was to launch a scholarship program to youth anglers. This scholarship program yielded 5 scholarships of $1000.00 each to youth anglers for trade school, college, and furthering education. We received 247 applicants and all had to answer if they knew about 811 and why it was important. Our 5 partners; Georgia 811, Ohio 811, Renegade Marine, Alabama 811, and One Call Concepts Locating Services created opportunity for youth anglers to earn these scholarships and invest in our youth."
Another 2020 success was airing "The Direction" on Discovery Channel and MOTV. "Bringing new distribution adds to our reach for our stakeholders, and to see us airing on Discovery on Saturday mornings was an exciting achievement," Stowe says. You will see "The Direction" airing later in 2021 on Discovery Channel along with viewing access on the Mossy Oak Go app.
To learn more about The Direction presented by 811 Outdoors with Mark Stowe, visit www.thedirectiontv.com., contact Mark at (502) 494-8783, or send an email to Mark@811Outdoors.com
For free access to watch The Direction on the Mossy Oak Go, App, and to see thousands of hours of premium outdoor adventure video, including original country music performances, download the Mossy Oak GO app at www.mossyoak.com/MOGO.